Volvo XC60: Luxury in a Compact Package
The roads of Virginia are packed bumper to bumper with SUVs of all kinds. Giant cargo carriers. Midsize people movers. Compact commuters. Their appeal is widespread, and the brand, model, and size that drivers end up choosing depends on what their individual needs are.
Volvo has answered the call with its own entries into the luxury SUV segment: the XC60 compact SUV and the XC90 midsize SUV. While the larger XC90 has more space for cargo and passengers (seating up to seven with the optional third row), the XC60 delivers a nimbler performance and quicker acceleration.
The compact XC60 is hard to beat in a number of ways. With its smooth and steady ride, well-rounded selection of standard and available features, and generous cargo space, it's more than ready to take its place as your family-focused crossover that will infuse a good dose of fun into your daily driving tasks. Whether dropping off kids at school or sports practices, navigating rush-hour traffic on your way to and from work, or zipping out to pick up dinner, you'll enjoy doing it behind the wheel of the XC60.
And because it's a Volvo, you can count on a luxurious interior that will make every drive, no matter how long or how short, feel like a veritable getaway.
At Berglund Volvo Cars of Lynchburg, we're proud to offer a large and high-quality selection of XC60 models for you to choose from. And because the best way to get familiar with any vehicle is in person, we invite you to head over to our dealership today and get ready to take one for a spin!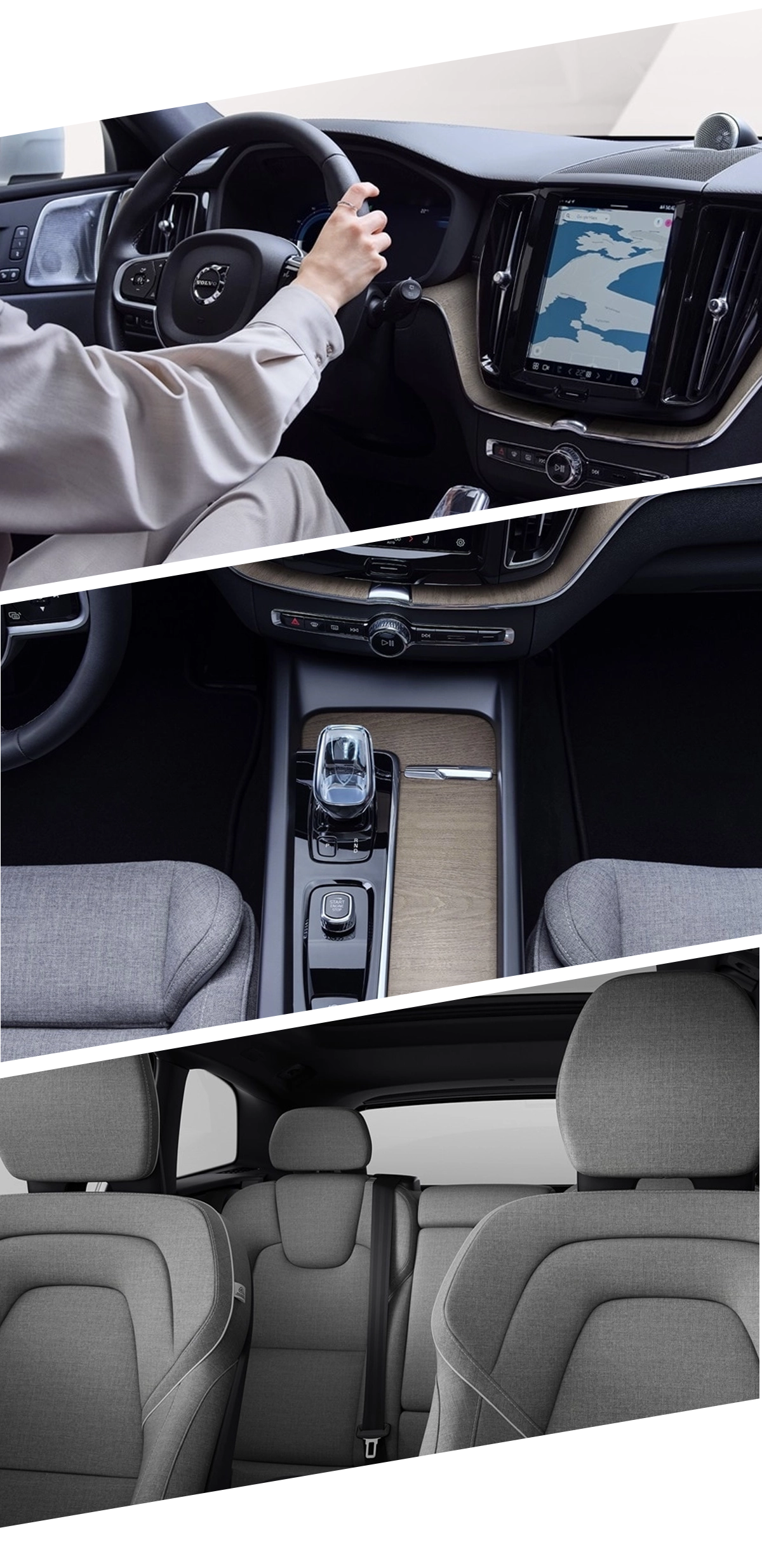 What's New in the 2023 Volvo XC60?
Volvo has made minimal changes to the 2023 XC60 model. New colors, wheels, and leather-free interior options, are available across the range in almost every Volvo vehicle. And with the elimination of trim lines across all models, luxury shoppers have the freedom to combine the exterior design, interior upholstery, and equipment level of their choice. Improvements inside the cabin include an upgraded infotainment system, which features the ability to receive over-the-air (OTA) updates. All new 2023 Volvo cars are capable of receiving and installing software upgrades remotely. As software updates are rolled out, each 2023 Volvo car is expected to continue to improve over its lifetime.
A Short History Lesson on the Volvo XC60
The Volvo XC60 was introduced as an all-new model in 2010. The compact luxury crossover SUV possessed a feature-loaded interior and an impressive range of advanced safety systems. Over the next few years, minor changes were made and additions like automatic headlights and wipers became standard features. In 2014, the front end was refreshed, and the interior updated; new options were introduced to the available packages, and an all-wheel drive system became available.
The comprehensive redesign in 2018 focused primarily on increasing comfort, enhancing safety, and upgrading technology features, resulting in what is arguably the best incarnation of this popular compact crossover SUV to date.
Ready to Purchase or Lease? Come See Us at Volvo Cars of Lynchburg
Once you've had a chance to explore our incredible inventory of new and quality pre-owned models, you'll likely have a better idea of which vehicles merit a closer look. Head over to Berglund Volvo Cars of Lynchburg to take the next step (and one of the most exciting ones!) and test drive your top picks.
Our team of friendly, knowledgeable sales associate and financial experts are at your service and ready to answer any questions you may have about our inventory, special deals, leasing offers, and more. We are committed to selling or leasing you the vehicle you want at the price you deserve. You'll find us at 2643 Lakeside Drive.
We're ready to get you an amazing deal on a fantastic car or SUV -- are you?