The Volvo S90: Never Settle for Less Than Luxury
What does luxury mean to you? Four-star hotel accommodations? Silk sheets? A day at the spa?
Whatever your idea of luxury entails, its vehicular representation would have to be the Volvo S90.
More than just a pretty car-with sweeping, confident lines and unmistakable Volvo panache-the S90 is the epitome of what sets luxury vehicles apart from the rest of the pack. Maybe it's the Scandinavian sensibility, with a clean, uncluttered interior that prioritizes comfort and safety. Or maybe it's the sophisticated array of technology and driver-assistance features.
We tend to think it's all of the above, plus something else that's maybe best described as uniquely Volvo. Because words can't paint a suitable picture of this luxury sedan, your best bet is to head over to check out the Volvo S90 models we have in stock at Berglund Volvo Cars of Lynchburg. We'll put you in the driver's seat to get a firsthand feel for the comfort, spaciousness, premium features, and stylish appointments that abound in this remarkable vehicle.
Drivers in and around New London, Amherst, and Concord, what are you waiting for? Our inventory of new and used Volvo vehicles is second to none, and we want to show you what they can do! We look forward to showing you around our dealership. And if you have questions, we have answers. Contact us today!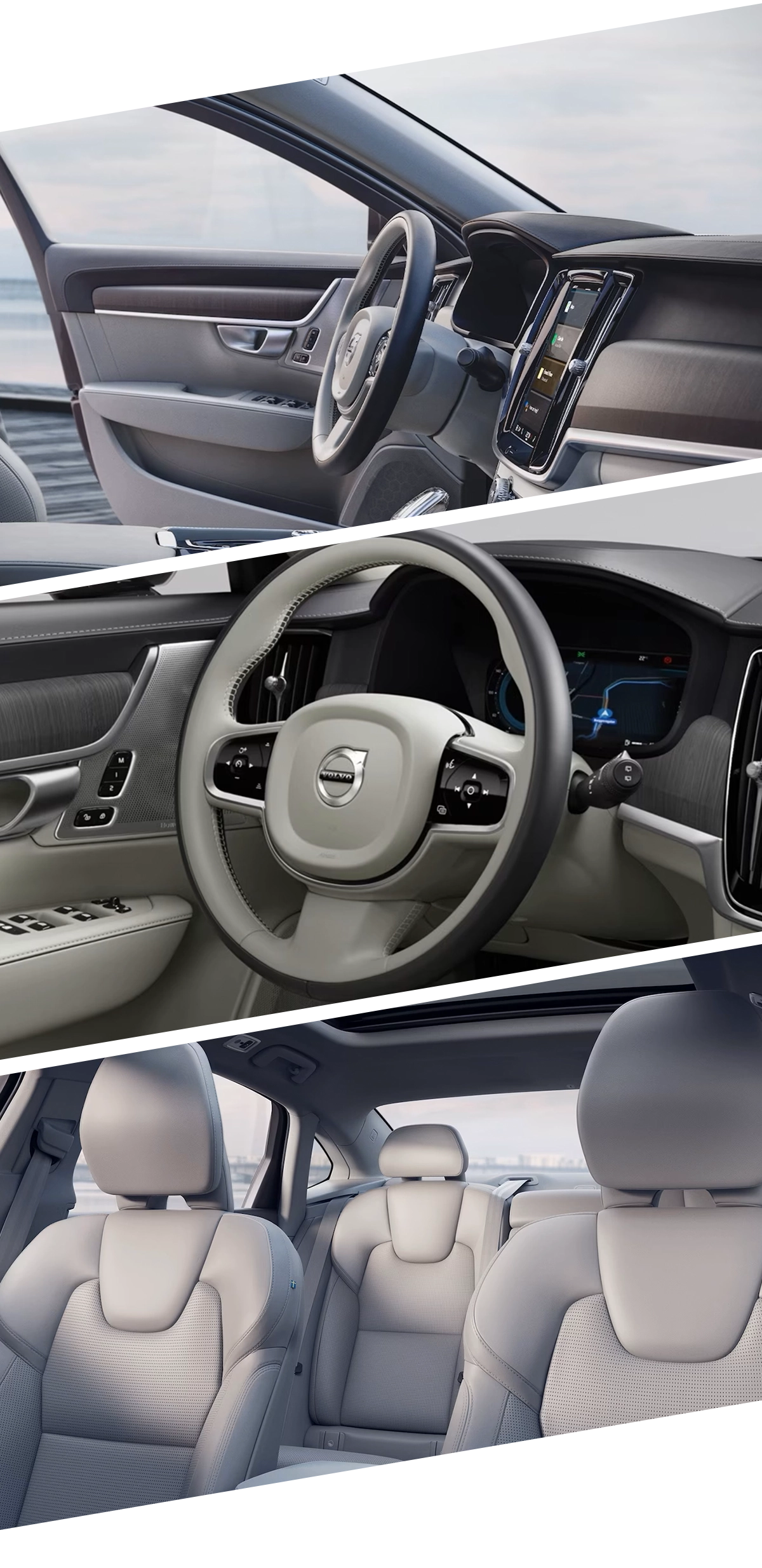 What's New on the 2023 Volvo S90?
As one of the foremost luxury automakers in the industry, you can feel good knowing that Volvo continually makes improvements to its line of models. The 2023 Volvo S90 is not undergoing any major design revisions, but there are some exciting changes. This year, there is a single powertrain in most models. There are two basic trim levels this year: the Plus and the Ultimate. The back seat is larger this year, affording more room for passengers. There is also now a plug-in hybrid model, which has an impressive 455 horsepower from its engine. It also has a pure electric range of 38 miles from a single charge. 
A Glimpse into the History of the Volvo S90
Replacing the long-popular but relatively static Volvo S80 (there were few revisions during the course of its decade-long existence), the S90 was unveiled for the 2017 model year. This new flagship sedan promised to up Volvo's sedan game with cutting-edge features, a fresher and modernized approach to design, and a premium interior with luxury at every angle.
The 2017 S90 became the second vehicle to use Volvo's modular SPA platform, which debuted on the second generation of the XC90 SUV. While it remains a relative newcomer to the Volvo lineup, the S90 is a sedan that offers generous and premium standard features, a technologically advanced interface, and Volvo's well-earned reputation for safety and reliability on the road. Virginia drivers will love how they feel behind the wheel of this sedan that's got everything it takes to become an automotive legend.
Why Buy or Lease from Volvo Cars of Lynchburg? Let Us Count the Reasons.
At our dealership, we want to do more than just sell you a car. We want to give you a stress-free and rewarding customer experience from the second you set foot on our lot to that highly anticipated moment we put the keys in your hand.
Part of giving you that pleasant car-buying or leasing experience is making sure that you get a great deal on a car you really want. Our team of associates can do this by helping you navigate our inventory and choose the perfect vehicle for your driving needs and lifestyle, and also by pointing you toward our array of special offers and incentives that can make getting the car you want more affordable than you ever imagined.
There's no time like the present, so head over to Berglund Volvo Cars of Lynchburg and get ready to drive home your dream car! You'll find us at 2643 Lakeside Drive in Lynchburg, VA. We can't wait to meet you!